The Blakely Burl Tree Project
ARTWORKS / PROJECTS
Artists: Mark Lindquist and Gary Stevens
Material: Blakely Burl Tree Burl Wood

CLICK TO SEE DELIVERED PIECE


Mark Lindquist and Gary Stevens created the first major piece of art from the Blakely Burl Tree during the filming of the video at Lindquist Studios.
Photos: John McFadden
ABOUT THE ARTISTS
Mark Lindquist has a BA from New England College and an MFA from Florida State University. He is the son of legendary woodturning pioneer Melvin Lindquist.
Recipient of the 2010 Lifetime Achievement Award from the American Association of Woodturners and a fellow of the American Craft Council, Mark Lindquist's tireless exploration of the expressive possibilities of the medium has helped to define its past, present, and future in the fine art world. In 1995, the Renwick Gallery of the Smithsonian American Art Museum honored Lindquist by hosting his 25-year retrospective exhibition. His work has been acquired by major museums in the United States and Europe including the Victoria and Albert Museum (London), Smithsonian American Art Museum (Washington, DC), High Museum of Art (Atlanta, GA), and Metropolitan Museum of Art (New York).

Gary Stevens
Like many others of a generation before, Gary developed his work in relative isolation. He had already been working with wood for more than twenty years, and selling his turnings and sculpted vessels for several years when he met Mel and Mark Lindquist. They were brought together by their love of wood and their interest in technical innovation, and worked together periodically over several years. "I first met Mel in 1996 when he was in his mid-80s," Gary explains. "We hit it off right off the bat. I had tremendous respect for him, not only for what he had accomplished, but also as a person." Because we know how much his own grandfather meant to Gary, it is a measure of profound respect when he says,"Mel was like another grandfather to me. When we were working together in the studio he could be a little rough around the edges. He would use some old-time saying to convey a thought or an idea. It would usually make me laugh, but I know exactly what he meant. He would smile and nod his head. I cherish the time we got to spend together."

Gary also acknowledges that Mark has a had a strong influence on his later work. "Mark really worked with me on sculpture. He made me go to the library and study artists like Jean Arp, Max Bill, Brancusi, and others. Then we would have discussions about the artists and their work. This dialogue really helped me focus on my sculptural forms and the direction that I have taken."

Gary Stevens has found a remarkable balance in his life. He makes it clear that what he calls his "day job" is as much a part of who he is as anything else, but it is made even more meaningful when it is measured against his other life as an artist. "For me working in the studio is a safe refuge from high stress. I'm still excited every time I start a new piece—the possibilities seem endless to me."
Terry Martin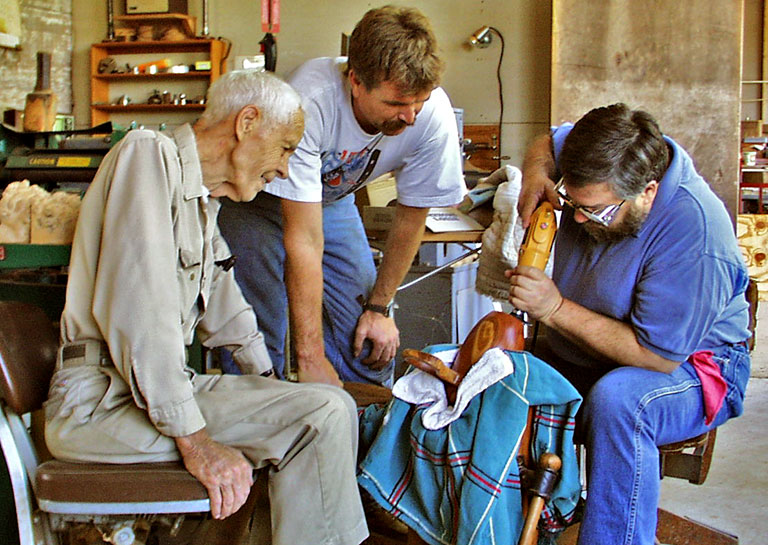 Mel Lindquist (left), Gary Stevens (Center), and Mark Lindquist (right), working at Lindquist Studios during Gary Steven's assistantship with the Lindquists, circa 1998, 1999

Making the first piece from the Blakely Burl Tree

Mark Lindquist (left) and Gary Stevens created the first major piece of art from the Blakely Burl Tree during the filming of the video at Lindquist Studios. Following are photos of part of the process. Photos: John McFadden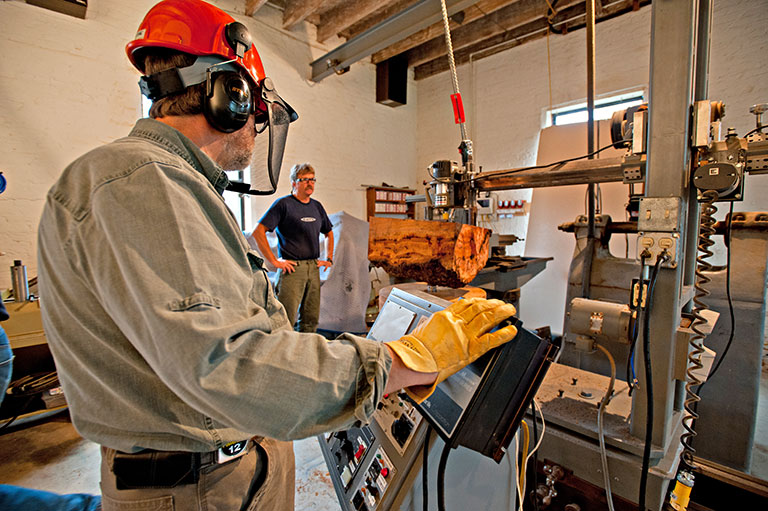 Artists Mark Lindquist (foreground) and Gary Stevens working on a piece of the Blakely Burl Tree during filming.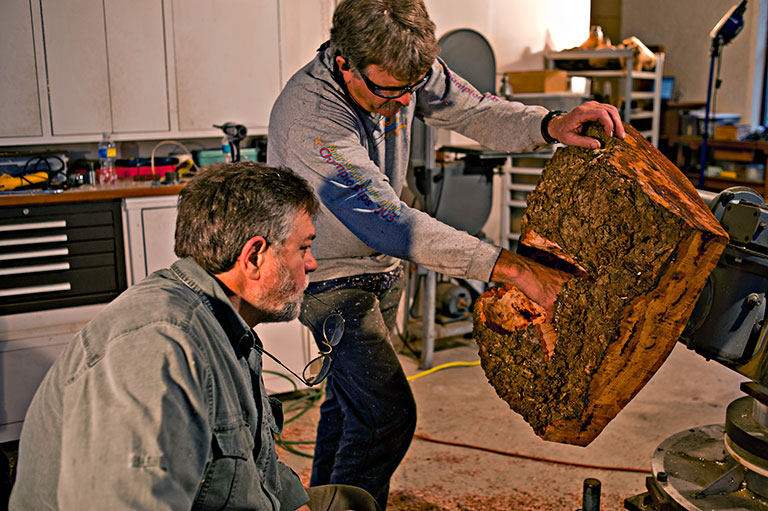 Gary and Mark discuss the direction of the piece.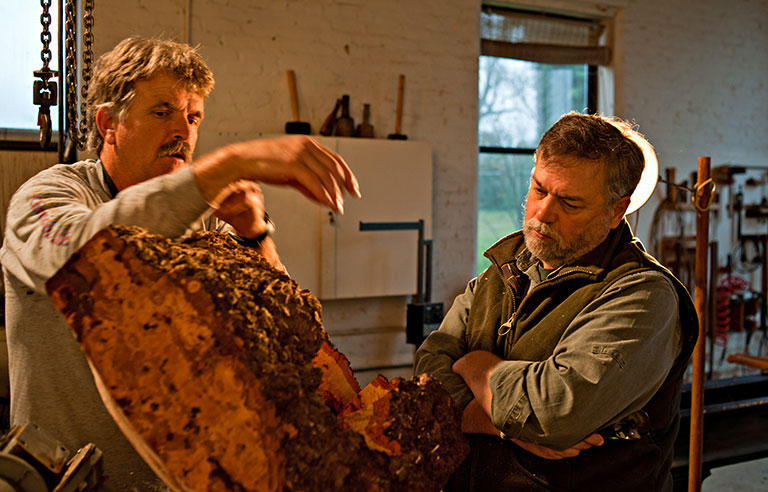 Determining the direction and stability of the grain.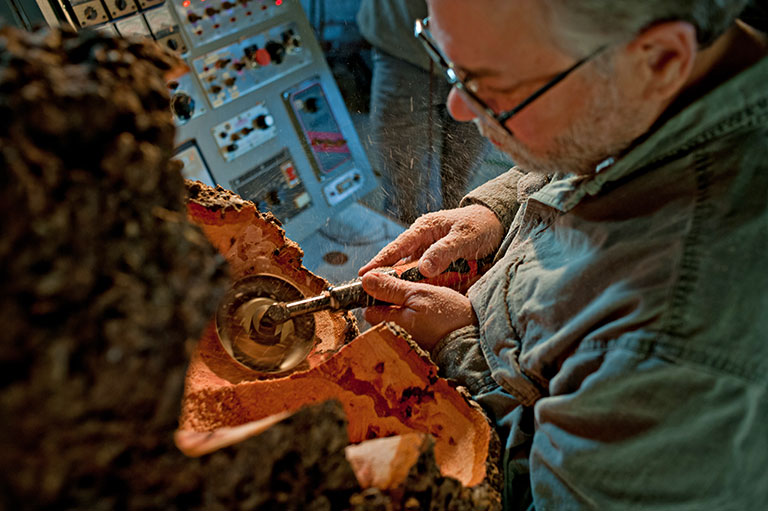 Mark Lindquist grinding the interior.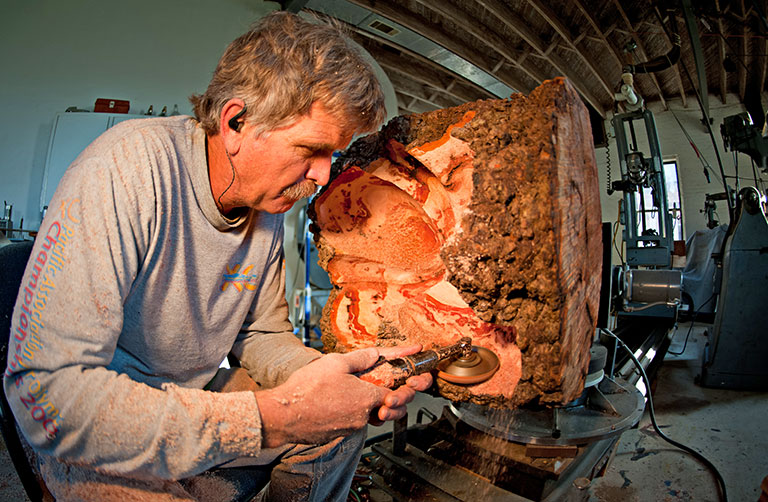 Gary Stevens grinding.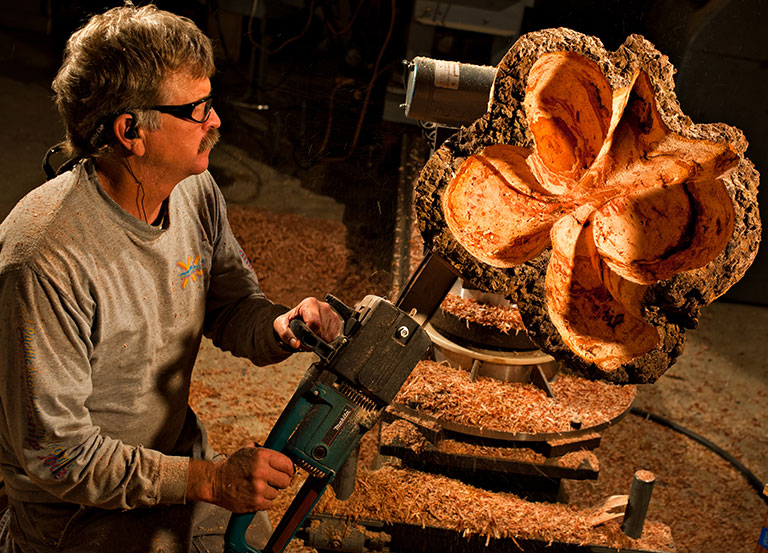 Gary Stevens chain sawing the form on the back side.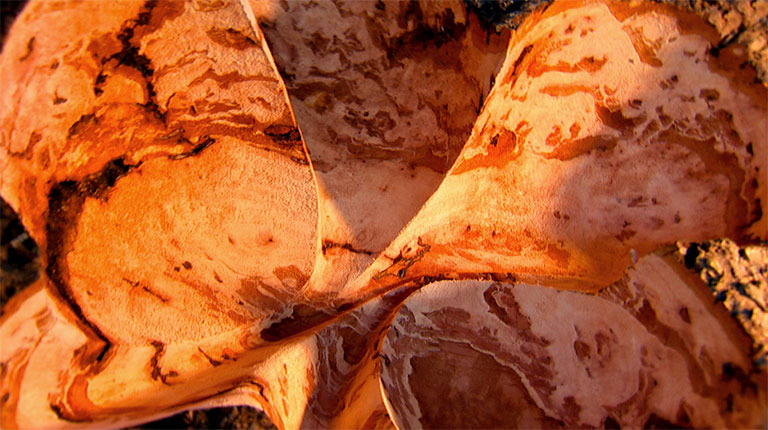 The final roughed out form.
DELIVERED PIECE: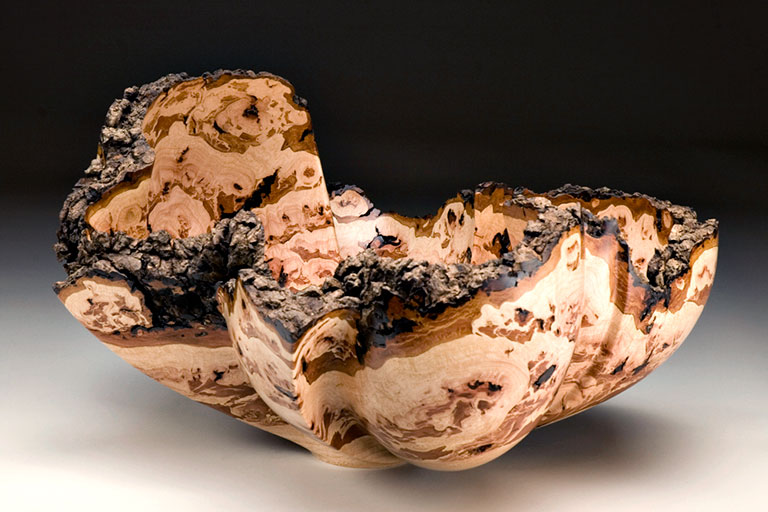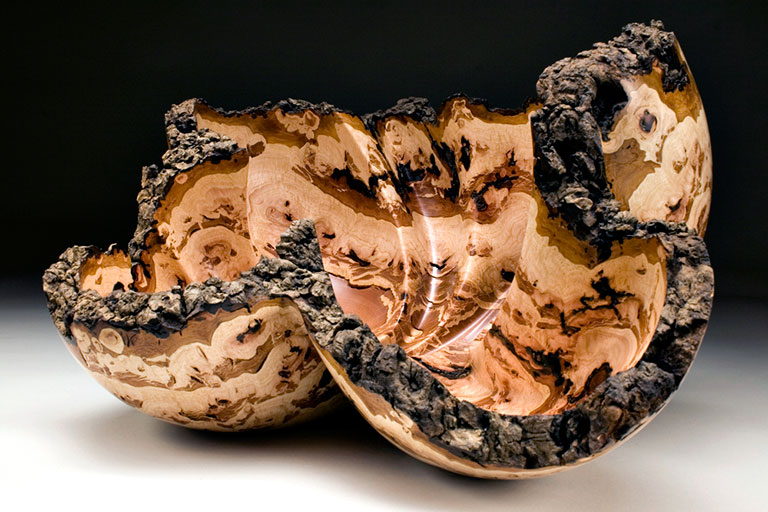 Mark Lindquist and Gary Stevens, Blakely Burl Tree Vessel # 1, 2009-2010, Pecan Burl, 10"H x 18" W x 16"D
BACK TO ARTWORK DIRECTORY