The Blakely Burl Tree Project:
From The Ground Up

by Terry Martin
THE OFFICIAL WELCOME

That evening we gather for a welcoming southern barbecue dinner. Charles and Catherine Rice are there with the Early County team, as well as local dignitaries who are important to both the 2055 project and the Burl Tree project that exists within it.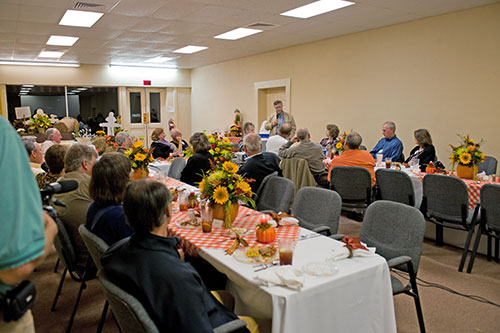 Mark Lindquist, (center, standing) presenting the Blakely Burl Tree Project during the orientation meeting. Photo: John McFadden

We are welcomed by Mayor Ric Hall, a man with a wry sense of humor delivered with southern charm. He explains why the town is excited about the Early County Project. I start to understand more about the breadth of what the Rice family is trying to do. Later the Mayor tells me that many communities would dearly love to be able to revitalize themselves in such a way, but they just can't afford to.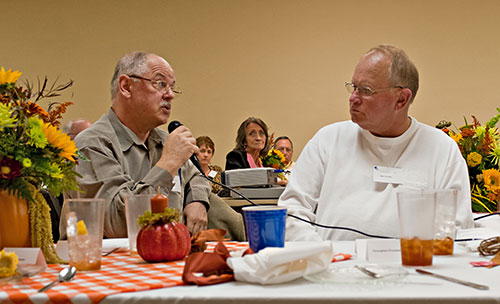 Terry Martin (left) and Blakely Mayor Ric Hall (right) at Blakely Burl Tree Project orientation dinner meeting. Photo: John McFadden

We all settle in for dinner and I have my first taste of corn flatbread, pulled pork and 'nana puddin'. I am as pleased with the experience as the rest of our crew. Mark outlines the BBTP, then invites Charles up to present him with a mounted photograph of Charles' childhood home in Blakely. Charles is astonished because the home is long gone and he had mourned the lack of a photograph. Stanley had tracked down one surviving photograph that showed the house partly falling down, but Mark was able to digitally manipulate it to recreate a perfect image. The stunned look on Charles' face is wonderful. This is a project that will tap deep into personal stories.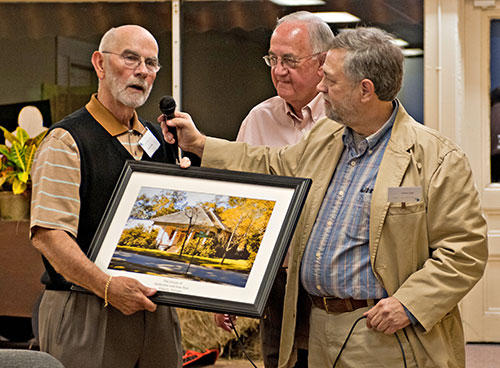 Charles Rice (left), Stanley Houston (center), and Mark Lindquist (right), with framed photograph, given as a gift from Stanley and Mark at the orientation dinner. Photo: John McFadden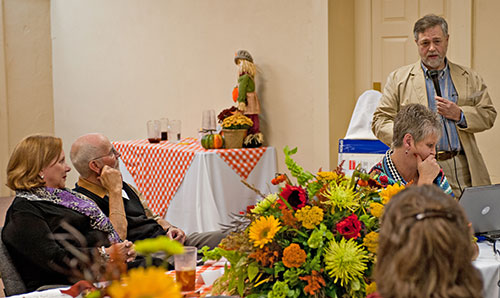 Catherine Rice (left), and Charles B. Rice, listening to Mark Lindquist's presentation during the orientation dinner meeting. Photo: John McFadden