The Blakely Burl Tree Project:
From The Ground Up

by Terry Martin
REFLECTIONS

As a woodworker myself, I'm occasionally caught up in the thrill of the flying sawdust and the scent of freshly cut lumber, but the very best thing about my role as writer for the BBTP is the chance to watch people closely, especially when they are too busy to notice I am watching. Of course, in this case watching other people work is only an honorable occupation if I end up with something worthwhile to say about them.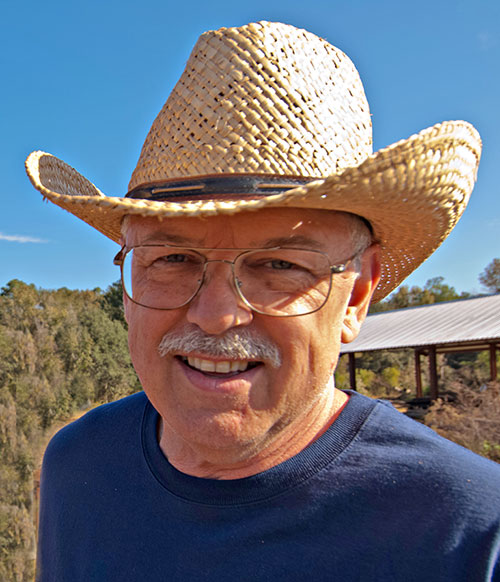 Terry Martin at Cross Sawmill, Iron City, GA. Photo: Mark Lindquist

I've met so many interesting characters over the last week that I find it hard to keep up, but on our second day at the sawmill, there is relatively little distraction because there are no people passing by every few minutes, no speculation about million-dollar trees, and, sadly, no sweet rolls from Heather. The noise of the mill drowns conversation, while the steady rhythm of sawing the tree offers space for private thought. Mark and Gary continue their verbal jousting about how and where to cut, so I step back and think about the people I have been watching for several days.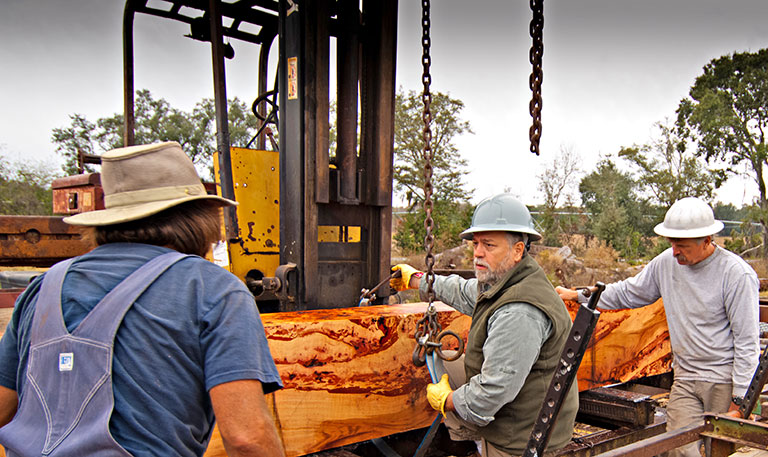 Gary Stevens (left) and Mark Lindquist (center) working with sawmill owner Steve Cross. Photo: Chris Smith

There is no doubt that Mark is an obsessive man, but it is in the best meaning of the word. His wish to guide every step of the Project comes from a determination to get it all right, and he has succeeded. We have hardly deviated from his preplanned timetable and he has been on top of every stage of the work. However, the stress has been very high for him and he has pushed himself to the limit every day. When the interior of the tree was finally revealed, Mark visibly relaxed. He had staked his reputation on his predictions about this tree, something few woodworkers would have done, but he was proven right.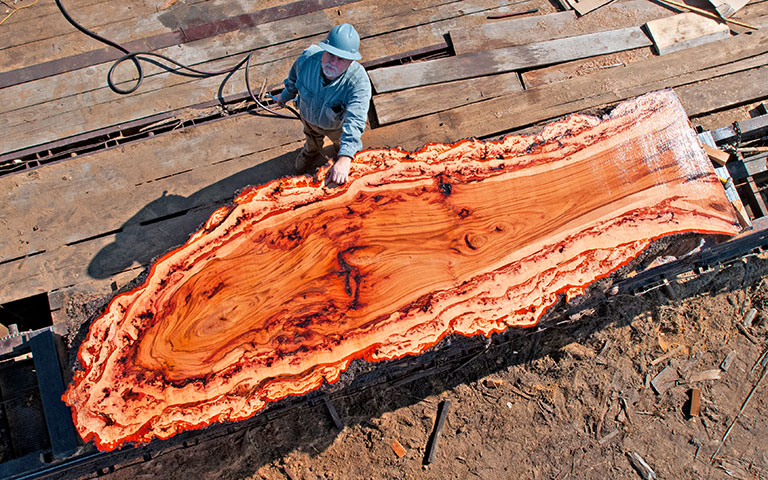 Blakely Burl Tree Project Director Mark Lindquist with the main center cut of the burl tree log. Photo: John McFadden

Now, at the sawmill, Mark has a chance to enjoy the work and he bounces around, full of ideas, full of excitement. I know that when he was young, Mark and his father Mel used to do incredibly exciting things for a boy. They built log cabins in the woods, Mark wielded chainsaws from the astonishingly young age of ten, and his father's early trust in him fostered remarkable self-confidence that has followed him throughout his adult life. His lifetime of experience working with burls was tailor-made preparation for this job.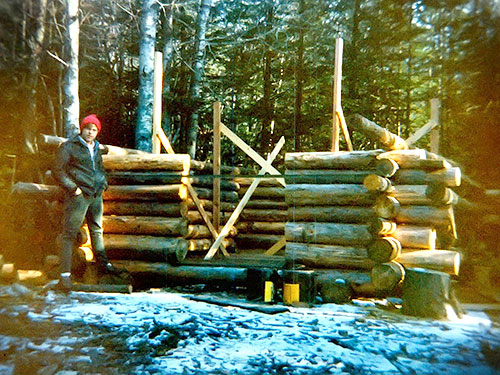 Mark Lindquist in the upstate New York Adirondacks with a cabin he and his father Mel built on their land during the late 50's through early sixties. Photo: Mel Lindquist

When Mark first began to assemble the BBTP team, I suspect Gary was the first on the list. Gary had already been working in wood for twenty years when he met Mel and Mark Lindquist. Gary inherited his can-do work ethic from his grandfather, who was a carpenter, and his father, who was a blacksmith.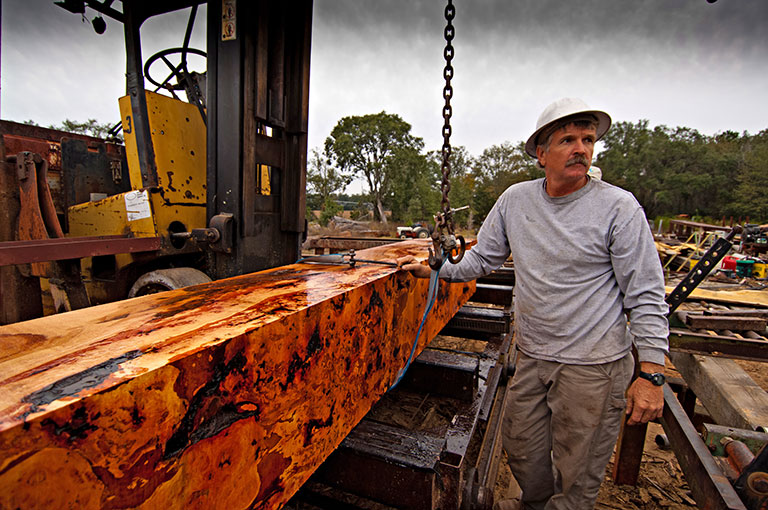 Gary Stevens at Cross Sawmill. Photo: Mark Lindquist

Gary had already been working in wood for twenty years when he met Mel and Mark Lindquist. Gary inherited his can-do work ethic from his grandfather, who was a carpenter, and his father, who was a blacksmith. That's why he recognized kindred spirits in Mark and Mel. Gary likes to acknowledge the influence both of the Lindquists had on him. Watching him for over a week, I have learned that he is incapable of sitting still when there is something to be done, but even when Gary has been cross-eyed with exhaustion he has stayed upbeat. I don't recall ever hearing a negative word from him.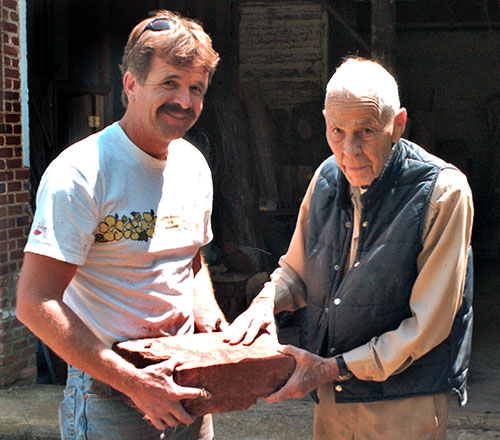 Gary Stevens (left) with woodturning pioneer Mel Lindquist at Lindquist Studios in Quincy, FL 1998. Gary Stevens was studio assistant to the Lindquists for several years. Photo: Mark Lindquist

The more I think about how hard everyone has worked, the more impressed I am. John McFadden has been continually popping up in the most unexpected places, climbing machinery or throwing himself down on the ground to look up at the image he wants to catch. Despite this, John never gets in the way of operations. I ask him how he does it. "I don't have to try," he says. "When I have a job to do through the camera, everything sort of narrows down for me. To get interesting pictures I have to become invisible, so I try to get people to trust me and then sort of forget that I'm there with the camera. That way I get natural behavior. Still, there are moments when I don't want them to forget, like when a chainsaw is being used—then it's 'Hey, I'm here!'"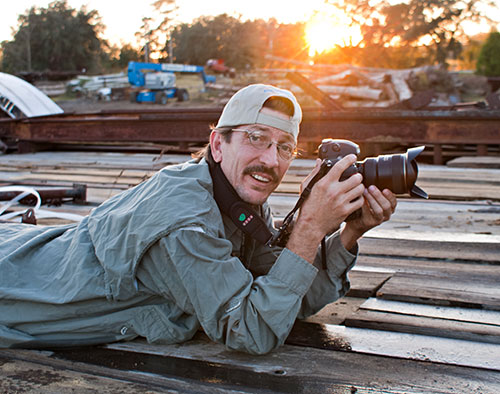 Photographer John McFadden at Cross Sawmill, Iron City, GA Photo: Terry Martin

John is not a large man, but every time I see him he is carrying packs of camera gear, hauling computers, scrambling, scrambling everywhere. This morning as we headed out to the mill, I helped John with his cameras. It was a real shock when I hefted his backpack as it must have weighed at least eighty pounds.

Every night he works late, helping lay down computer backups of the film Greg has taken that day. Often he calls me over to see a still image he is particularly proud of. I recall that at that first welcoming dinner in Blakely I had told the gathered residents they would be "gobsmacked" by the images John and Mark would create. The images John shows me are confirmation of this. The final results are something I am looking forward to.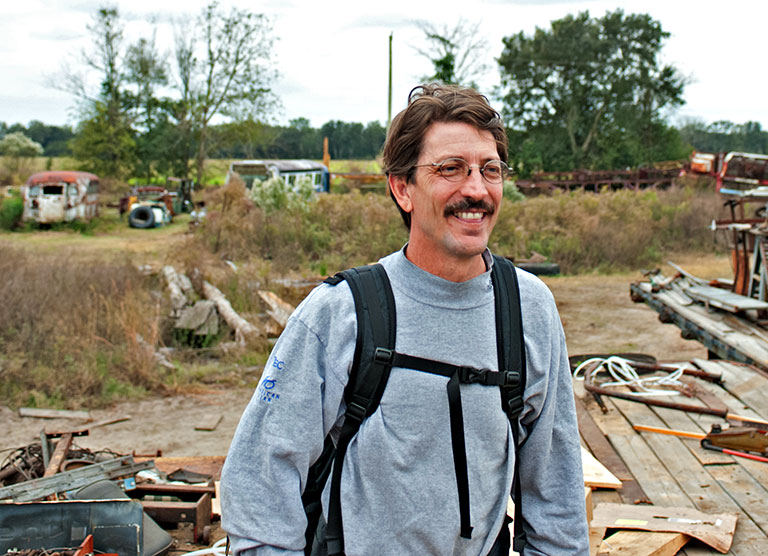 Photographer John McFadden at Cross Sawmill, Iron City, GA Photo: Terry Martin

While I am sitting on the shuddering deck of the Super Ax thinking about how to represent all of this work in writing, Chris Smith joins me. With somebody so quiet it is easy to underestimate his achievements and I think back to when I visited Chris in his furniture studio in Florida before we came to Blakely. Chris has chosen a calm life in a house and studio surrounded by woods. It is an island of quiet contemplation, filled with his own woodwork.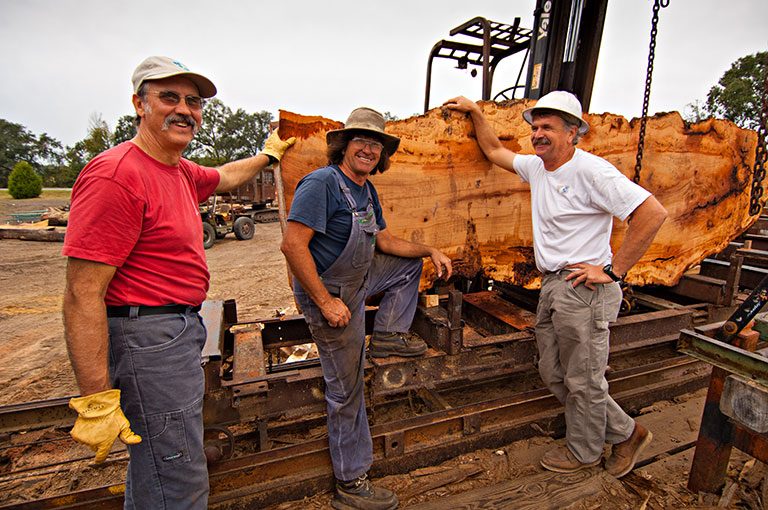 Chris Smith (left) with Steve Cross (center) and Gary Stevens (right). Photo: Mark Lindquist

Every piece he has made confirms how much he understands the essential nature of wood and of the tree, and he uses this knowledge to express a simple philosophy of life. I can't shake the image of a beautiful hand-towel rack that I saw in his bathroom. It was an unpretentious piece of jointed branch that seemingly grew out of the bench top, arching over to allow the towel to be draped lightly on it. It helps me understand why the pallets that Chris made for storing the wood are so well made. As he sits beside me now, covered in sawdust and with sweat soaking his shirt, I see that gentle art can require hard work, and that Chris is up to the job.

Later I walk up to the house and find Stephanie, Steve's wife. She is driving posts in the ground to build a fence to keep the wildlife out of their vegetable patch. We compare experiences of lost crops, me to Australian possums, her to roaming deer. While we are talking Steve rushes by with a broad grin on his face, apparently on some urgent errand and I see her smiling as he passes. "Steve's in his element right now," she says. "He really loves to share his passion with everyone and because he cuts such large pieces, nobody could have dreamed up a more perfect project for him."

I ask her about their life here and she laughs:

"This is just bliss. I couldn't dream up a better place to live and a more amazing man. He's thoughtful and he just loves the children. He doesn't know how to say no to them or raise his voice. It's not just for the kids, it's for me too. He is an amazing, wonderful husband and father."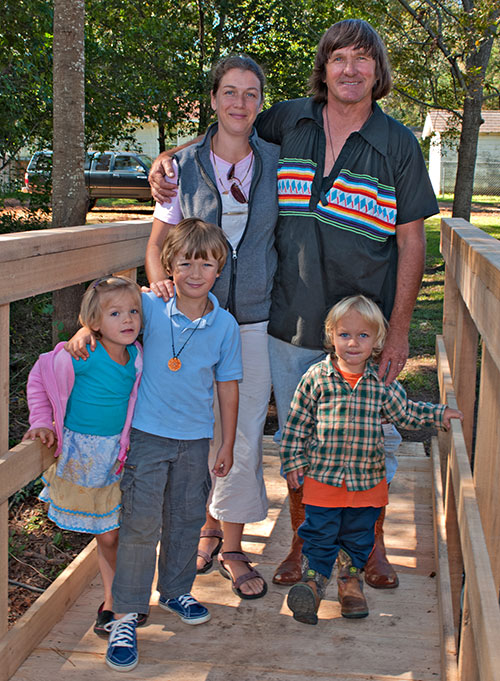 The Cross Family Photo: John McFadden

Nearby, the three children are running here there and everywhere. The two boys, Steven and Oliver, and daughter Julia are a home-schooled brood who live surrounded by woods, an extended dog and cat family, a child's paradise of junk and machinery, and loving parents whose life is dedicated to giving them the richest experience possible. All of this is as far from the techno-world of the average city kid as you can imagine.

The never-tiring wood team keeps sawing and a whole day passes, from the glory light of early sunrise, to the gentle tones of a fall sunset. In anticipation of this perfect light, John and I sneak away to take photographs along a beautiful creek near Steve's home. As we work our way along the banks of the creek to get the best light on the water, I stop to look around. The huge cypress trees push weird, rounded knees of wood up through the wet soil, and the trees arch overhead. Swaths of Spanish Moss create a translucent curtain that the light bleeds through to create an other-worldly atmosphere. As John disappears around a bend in the creek, I am left alone, surrounded by the murmur of the stream. Not for the first time, I wonder how I came from the other side of the world to be here.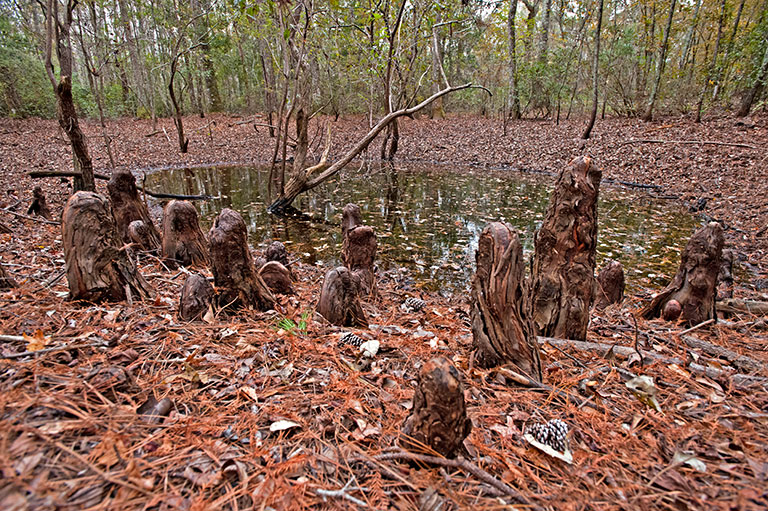 Cypress knees near Steve Cross's house. Photo: John McFadden