The Blakely Burl Tree Project:
From The Ground Up

by Terry Martin
THE STUDIO LIFE

Usually the outside of a wooden vessel is made first, then the inside is cut to conform to the exterior. Mark and Gary are doing the exact opposite. They have carved the deeply scalloped interior and Wednesday morning they begin matching the outside to it. They seem to be working instinctively, but I know that every cut is the result of years of experience—decades in fact. Both of these men know exactly how the other thinks and the work flows smoothly.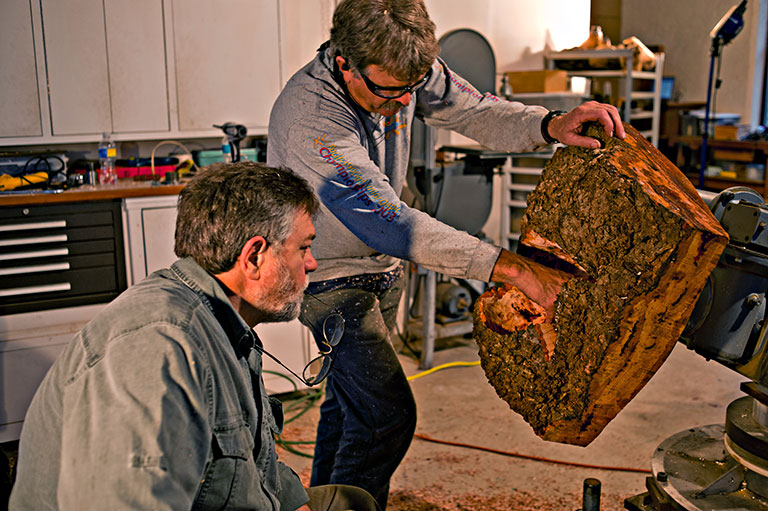 Mark Lindquist and Gary Stevens studying the newly cut wood. Photo: John McFadden

I have been amazed to watch them work so hard for so many days because I know that neither of them should be doing hard physical work at all. Both Mark and Gary have suffered major injuries in the past that limit their movement. Since a terrible car accident many years ago Mark has suffered lingering problems that can leave him prostrate with pain. Gary has screws and plates in his neck that cause agonizing flare-ups. Almost every day I have seen deep pain etched into their faces, but there have been no complaints and they have continued relentlessly with the work.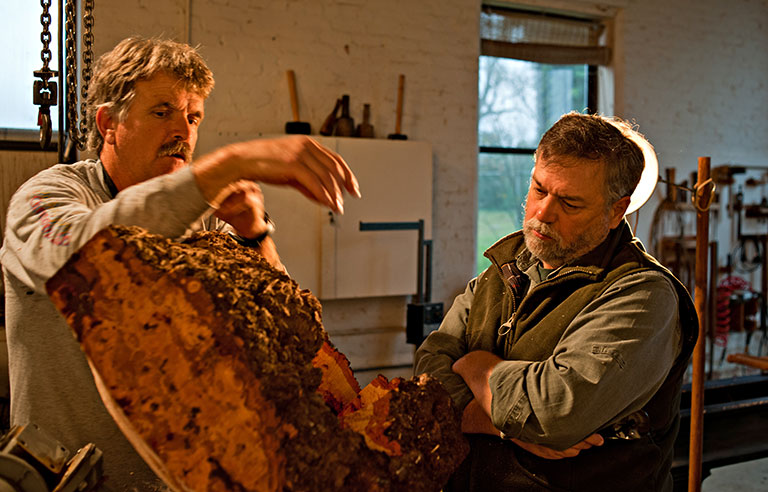 Gary Stevens (left) and Mark Lindquist working collaboratively on the Blakely Burl Tree wood. They began their first collaboration in 1998. Photo: John McFadden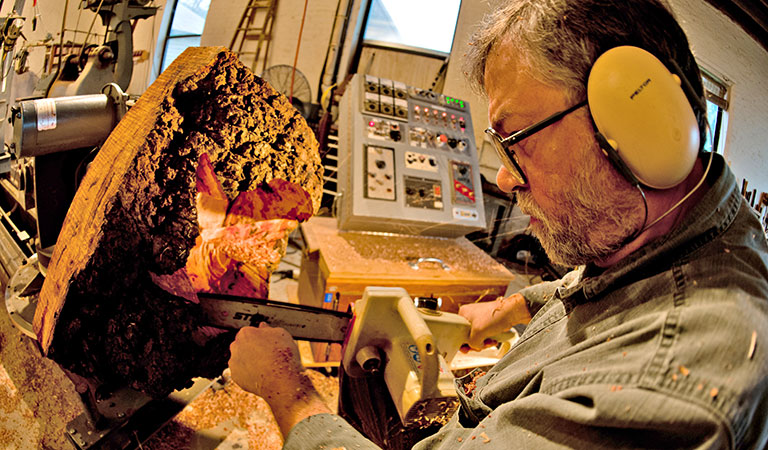 Lindquist uses a side-handle for safety and control while chainsaw carving the interior. Photo: John McFadden

Mark takes a break to spend some time with the film crew, so Gary starts smoothing the curves with a rotary cutter. He pauses to check progress and I ask him how it's going.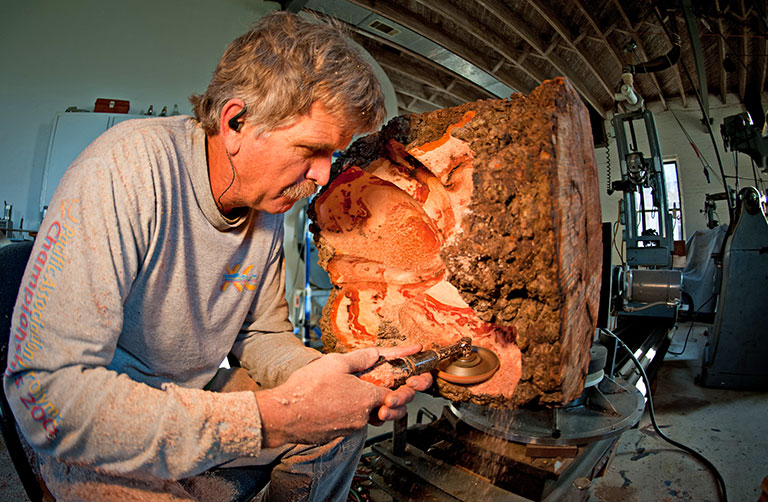 Gary Stevens with his pneumatic grinder and carbide cutting disc, working the interior of the sculpture. Photo: John McFadden

"This is a fun job," he says, "Time just slips away and that tells you how enjoyable it is."

When I ask what the wood is like to work with, he smiles happily. "Well, so many times you have great expectations when you are harvesting a piece of wood, but then it ends up being rotten. With this job we didn't know exactly what we had until the tree was cut, so there was a high level of anticipation. We wanted it to be a good piece of wood. Now I can say that it's a great piece of wood!"

I describe the thoughts I had yesterday about Mel, and Gary looks around: "Well, there's something about being in this studio. When I was working here, Mel would often stand close by and look over my shoulder. While I'm working on this piece those memories are very sharp. I feel like he's looking down from wherever he is and having a good laugh at us enjoying the whole process."

He carves some more, then stops to add something he has just thought of: "You know, while we were cutting up that tree at Steve's place I was already chomping at the bit. I was imagining pieces I could make, so having a chance to immediately start on a piece with Mark caps off the whole experience. Gathering the material was pretty exciting, but making this sculpture is like unwrapping a magnificent thing."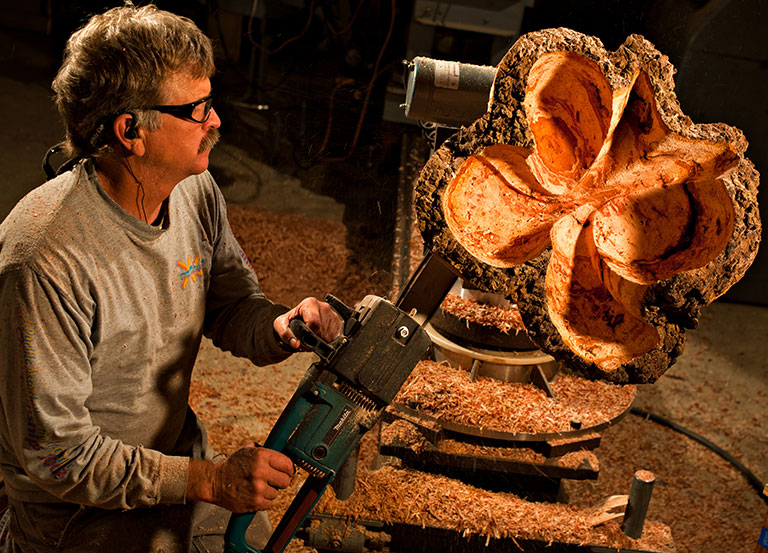 Gary Stevens carving the exterior of the sculpture in the evening at Lindquist Studios. Photo: John McFadden

Gary starts carving again, so I leave him with John still relentlessly snapping photos. In the photographic studio Mark is being filmed. His narrative ranges far and wide, covering the whole history of the BBTP then blending in the story of his father, his own work and Lindquist Studios. As I listen I realize that for Mark the BBTP seamlessly fits into his whole life adventure. All of the events of his life seem to have prepared him for this task: his experience working with wood, particularly burls; his photographic skills; his computer savvy that has enabled him to use images and ideas to promote art; his years of negotiating with top-end galleries and events to present his art at the highest level; his network of friends who can help him with work like this…..the list seems endless. But most of all it is Mark's fierce determination that carries him through. I watch him speak with intense concentration to the camera. In the best sense of the word, Mark is probably the most single-minded person I know.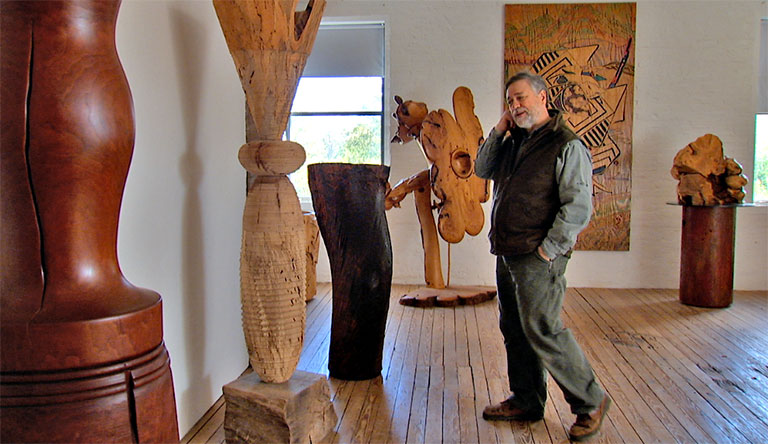 Mark Lindquist in his scupture gallery during filming for the Blakely Burl Tree Project. Photo: John McFadden