The Blakely Burl Tree Project:
From The Ground Up

by Terry Martin
THE SHOW BEGINS

The tree service contractors have arrived and we all take a collective deep breath. Mark knows that these first cuts will irrevocably determine what can be made from the wood, so he has produced a cutting plan indicating where to cut.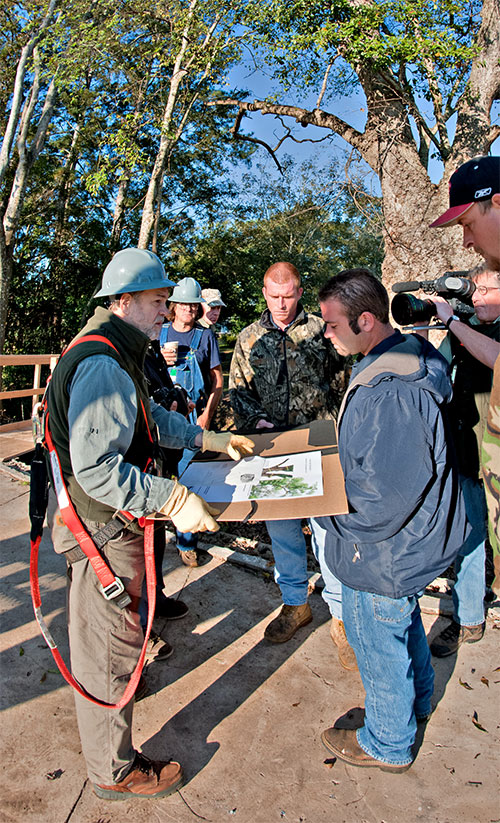 Mark Lindquist (left) discusses cut plan with tree removal crew.
Photo: John McFadden

Usually such operators only have to worry about getting the wood down to ground as quickly and efficiently as possible, so it is an interesting challenge for them to cut to a predetermined plan.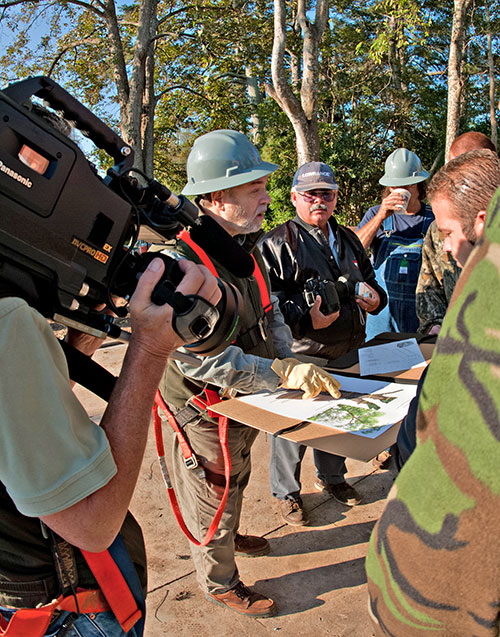 Mark Lindquist (second from left) discusses cut plan with tree removal crew.
Photo: John McFadden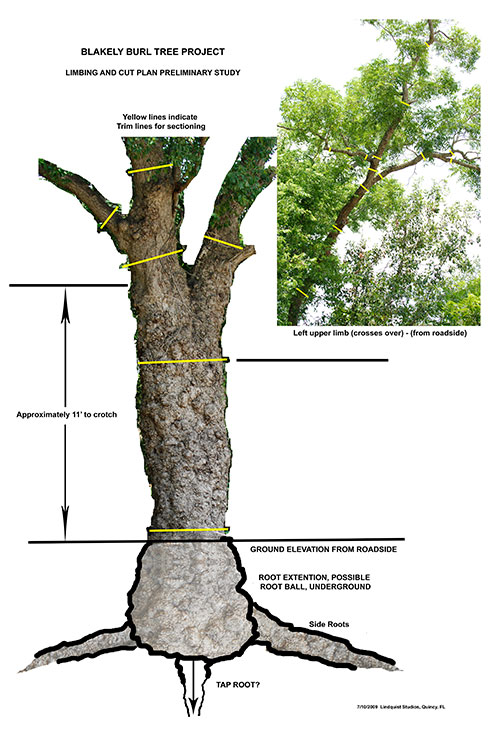 Original Cut Plan by Mark Lindquist

As the contractor's cherry picker swings up to join the Zoom Boom and the Telehandler, from below it looks like we are watching a get-together of overgrown insects.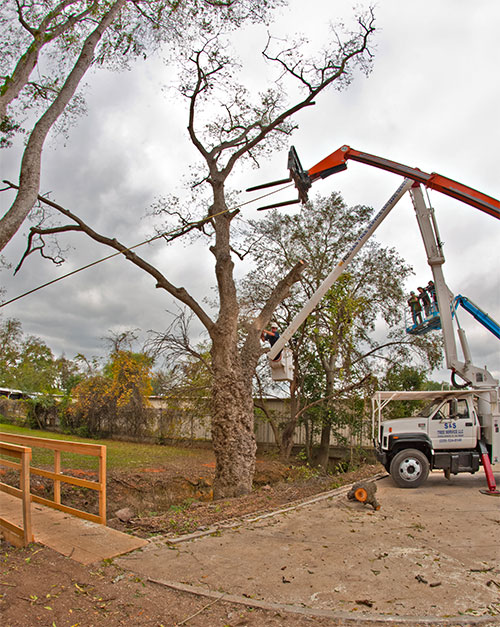 Telehandler, Tree Bucket and Zoom-Boom during limbing process.
Photo: John McFadden

The smallest limbs are lopped and quickly chipped, but everything above a few inches in diameter is lowered carefully to the ground.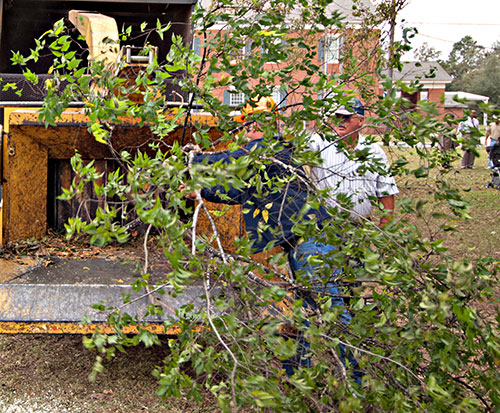 Small limbs go into the chipper. Photo: Mark Lindquist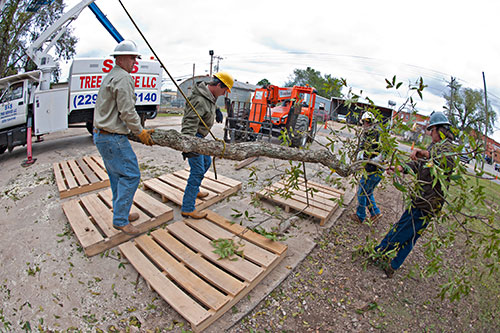 Larger limbs are stacked on pallets. Photo: John McFadden

The foliage disappears into the machine and emerges as a pile of mulch, and I am struck with the thought that if it hadn't been for strange circumstance the whole burl tree might have been joining these branches in anonymous oblivion.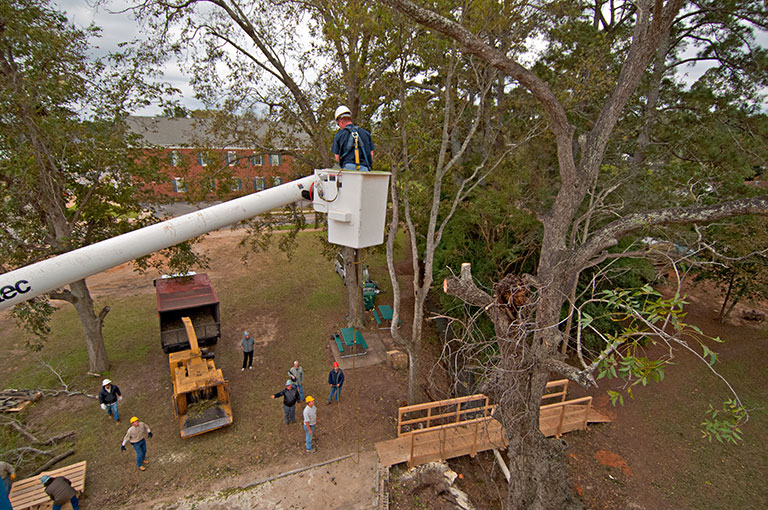 Aerial view of site from Zoom-Boom. Photo: Mark Lindquist

Mark and Gary once more maneuver as close as they can so Mark can direct each cut.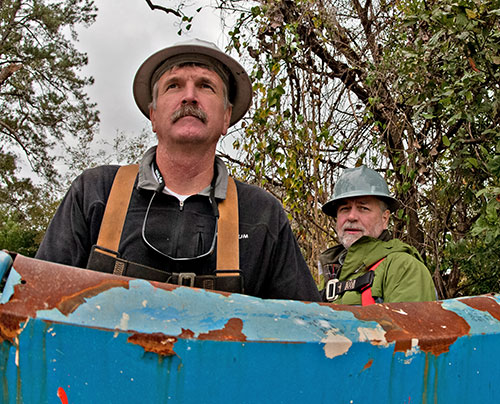 Gary Stevens (left) and Mark Lindquist studying Blakely Burl Tree in Zoom-Boom.
Photo: John McFadden



Overview of limbing process - S&S Tree Service. Photo: Mark Lindquist

The heavy sections of branch, each weighing hundreds of pounds, are tethered to the Zoom Boom and they swing alarmingly in an arc through the air as the tree service operator cuts them through. Mark leans in close to take photographs, but is never in danger.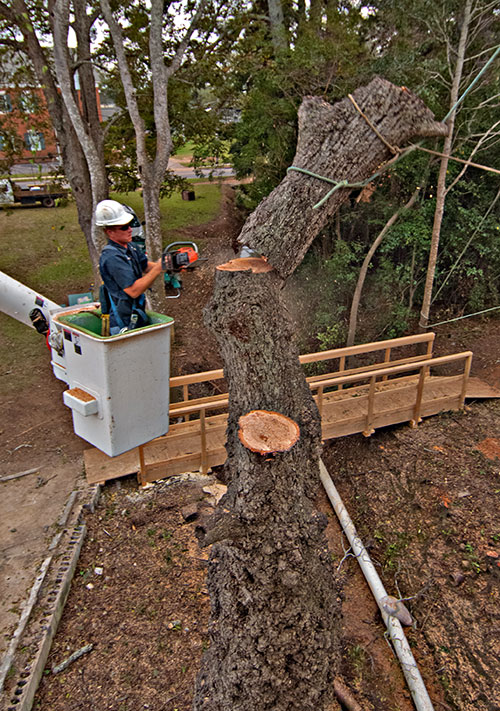 Ferrel, from Stewart Tree Service finishes a cut on a large limb.
Photo: Mark Lindquist

Later Mark told me, "Those guys were incredible! I'd tell them what I wanted and they were able to do exactly right every time. It was like a ballet watching those limbs swing in the air."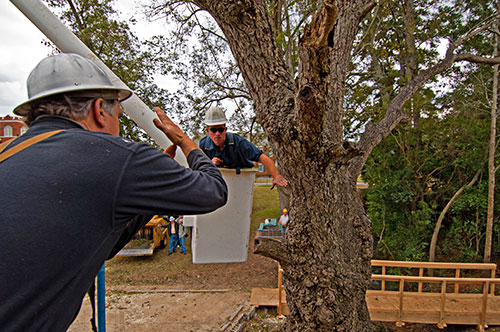 Gary Stevens gives hand signals to tree cutter. Photo: Mark Lindquist

While Greg films from below, Gary calmly steps across empty space from the Zoom Boom to the tree, then shows exactly where a cut should be made. Later I ask Gary about this aerial bravado and he says, "Well, I guess when you work hundreds of feet up in the air like I do on building projects, you get used to it!"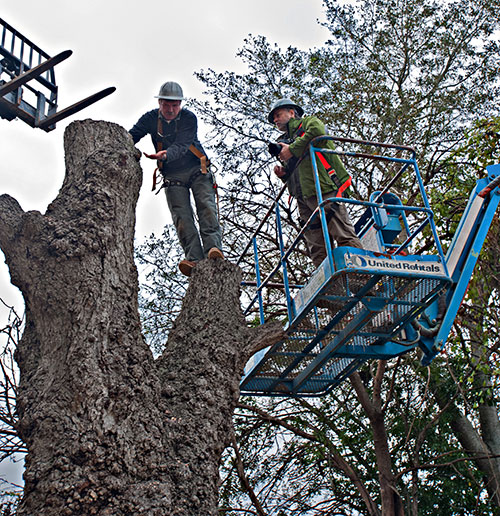 Gary Stevens (on tree) studying Blakely Burl Tree while conferring with Mark Lindquist. Photo: John McFadden

After the branches are lowered to the ground they are stacked on the heavy duty pallets that Chris has been making in the warehouse across the road, helped by the Davis brothers.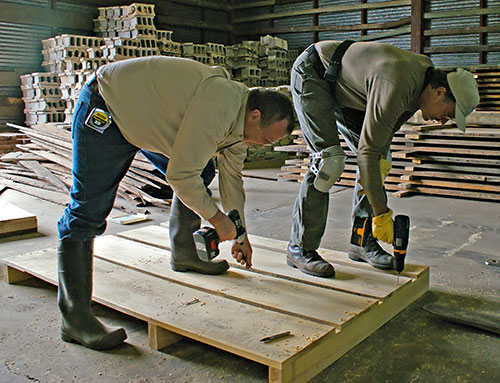 Chris Smith (right) and Tommy Davis building pallets.
Photo: Terry Martin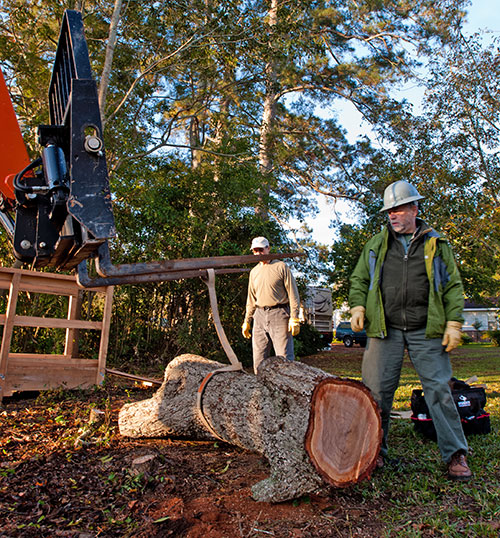 Mark Lindquist (right) and Chris Smith rig larger branch sections for transport.
Photo: John McFadden

Chris is a quiet achiever and often we only realize he is there when something that is badly needed appears as if by magic.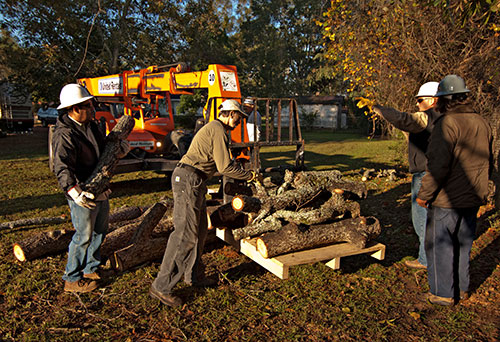 Chris Smith (center) stacking larger limbs on pallets. Photo: Mark Lindquist

By the end of the day all the branches are cut and the ends are waxed to prevent splitting.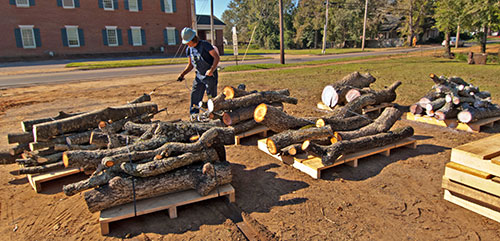 Steve Cross applying wax to log ends. Photo: Mark Lindquist

The branches don't have any burl on them, so it is a large amount of straight-grained material that might be used for fine cabinet making. The wood is all moved to the warehouse and as the doors are closed I see Mark taking a satisfied look at the stacked wood. It's a good start.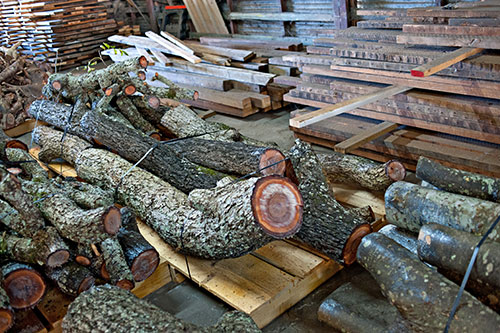 Branches stacked in warehouse on pallets. Photo: John McFadden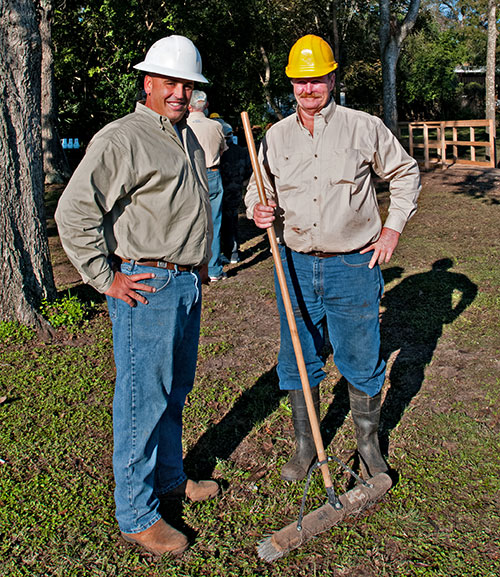 Jim Carver and Tommy Davis onsite. Photo: John McFadden

That night we enjoy another enormous meal at the Funny Girl restaurant. It's time to swap stories over a beer and Greg keeps us entertained with his recollections of working with famous reporters.



Blakely Burl Tree Project Team at Funny Girl Restaurant, Blakely, GA
Photo: Terry Martin

Most of all we lean close while he tells us what it was like during his recent time in Afghanistan. Local Jim Carver follows with stories of his time in the Middle East with the Marines. I sit back and look around at the intensely interested faces. Not for the first time I marvel that I am in a place very far away from my world. I am getting new insights into America and feel very grateful for the opportunity.

At the end of the meal some of us go back down to the site to discuss tomorrow's plan. John and Mark go into the mobile home, but I see that a police car is parked next to the tree, so I go over to talk to the deputy. He tells me that Sheriff Murkeson has detailed somebody to be on duty there every night. I'm impressed with this further evidence of community support. "Have you ever guarded a tree before?" I ask. "I can't say I have," he replies. "Do you get bored?" "Well no, I get out and walk around every now and then." I am starting to get some idea of why the townsfolk are convinced the tree must be really valuable.

Back in the mobile home, John is seated in front of a bank of computer screens, surrounded by a wall of memory banks and processing equipment. He's busy making backups of the movie footage that was taken that day. Mark is on the other side of the table sorting still images that he and John have taken. I sit and transcribe notes and we all work contentedly till late in the night.